How to choose the RIGHT digital marketing agency for your business
In the world of digital marketing there are loads of digital marketing agencies to choose from. If you're a business owner, you've probably done a Google search for one and we won't blame you for feeling overwhelmed by the results. Choosing the right digital marketing agency for your business is an important step in ensuring you have a marketing strategy that achieves your business goals.
The digital marketing industry is full of variables. There can be a great digital marketing agency suited to small businesses, or one could be the best digital marketing agency for big international companies and organisations. Sometimes, you get those great digital marketing agencies that are able to do it all.
Whatever you're looking for, we thought we'd help make the process of choosing the best digital marketing company for your business simple.
What is digital marketing?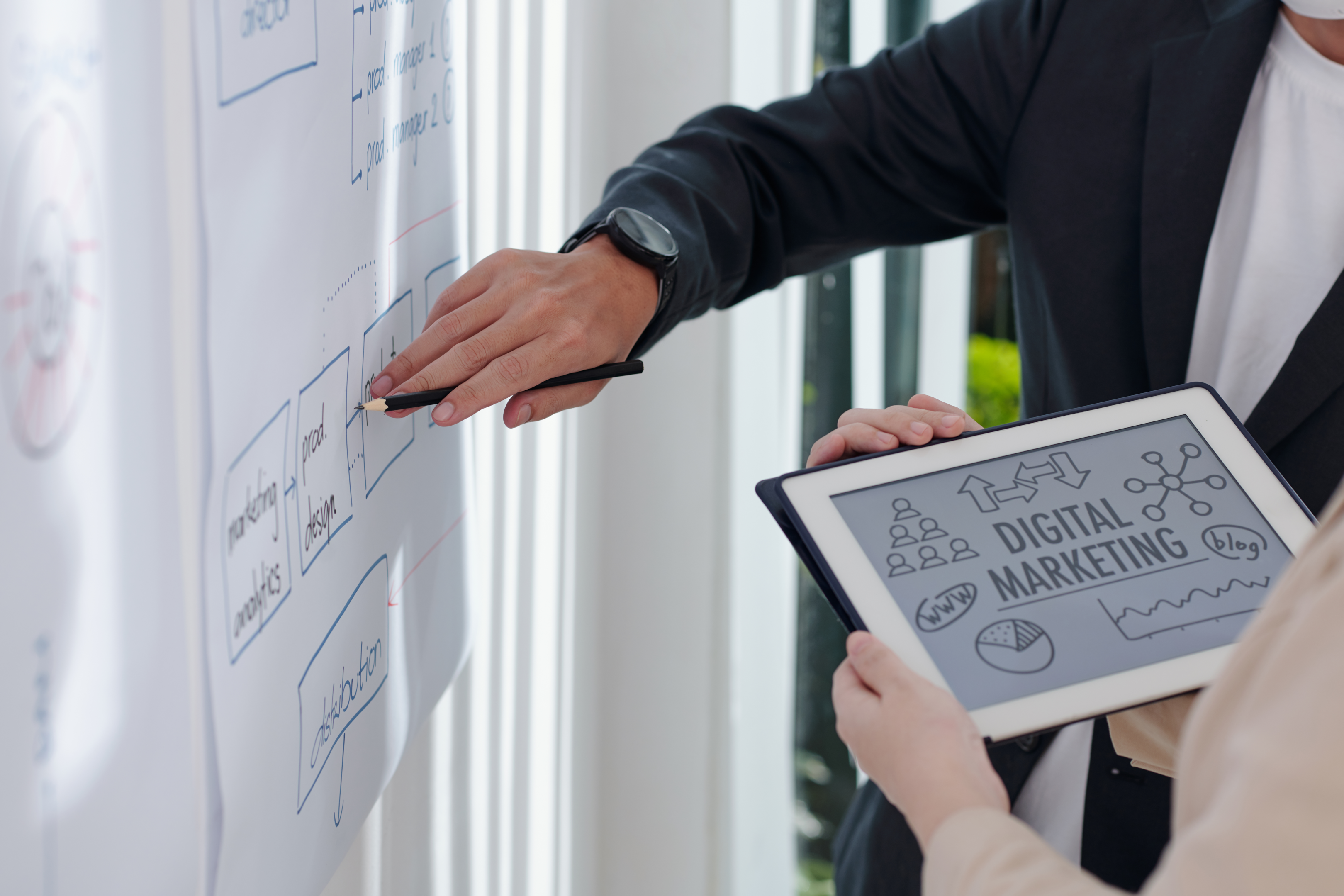 Digital marketing involves marketing products and services through digital channels in order to reach consumers. A variety of online channels are involved, such as websites, mobile devices, social media management, and search engines. Through these channels a full-service digital marketing agency will handle content creation, video marketing, paid ads, lead generation, SEO, ad copy and more.
In the 1990s, the internet led to the growth of digital marketing. Often, companies consider digital marketing to be a new way to approach consumers and understand how they behave, though it also incorporates some of the same principles as traditional marketing. Modern strategies for marketing are often a combination of traditional and digital.
What do digital marketing agencies do?
A marketing agency helps you increase sales using a combination of marketing techniques to reach the right target audience. Services offered at a digital marketing agency can vary widely, but generally the following services can be expected:
Facebook advertising


Facebook is a great platform with huge user bases that can get virtually any business the most bang for their buck. You can target your audience according to gender, educational levels, income, location, interests, status updates, etc. Many marketers consider Facebook an essential piece in the puzzle.

SEO


SEO is how you get your web pages and articles highly visible in search engines. Getting your content in top-ranked searches helps in capturing potential clients at the perfect phase of the buyer journey – the moment they're searching for a solution to their problem. A great agency will be across SEO, producing a range of blog categories and getting your ad copy onto a range of other websites.

Google Ads


Like SEO, Google ad campaigns are an excellent form of paid advertising that can attract customers at the point they're experiencing an issue. Most consumers rely on Google for help in solving problems, so launching targeted ad campaigns in the context of such prospects can prove extremely profitable for most businesses. You're even able to keep detailed track of how your Google ads are doing with Google analytics.

Video advertising


The YouTube platform is aimed at adults 18 – 49 years older and has one of the highest viewership among prime-time television series hosts in the United States. Video advertising is a great part of any marketing plan as it offers an engaging and dynamic ad format to bolster your digital marketing efforts.

A great digital strategy from a digital marketing agency will include design services for putting together dynamic and creative video ads. YouTube ads are targeted based on demographics, website activity and more helping you target your target audience.

Mobile marketing


More than 45% of searches are made via mobile. When those searches are related to local businesses, the numbers are even higher. Mobile advertising includes in-app ads, text message marketing, and functionality campaigns such as utilising QR codes or augmented reality.

Email marketing

Emails are still generating a great return on marketing despite the rise in the number of social media platforms. Email on average generates 38 dollars per $1 spent! That's a big deal. One of the biggest challenges with email marketing is getting everything streamlined and keeping email lists up to date.

The right digital marketing agency partner will be able to maintain and build your client list while streamlining your email marketing as part of your digital marketing strategy.

Social interactions

When you're using social media marketing, it's important to have clear KPI's. The social interaction KPI helps measure how well your social media effort is driving your conversion rates.

Using an online tracking tool like KISSmetrics allows for instant tracking of people's visits to your social media page. You also have access to data on the number of people on social media that you want to reach.

Content marketing


Content marketing is one of the most vital aspects of any digital marketing strategy. Many companies believe writing SEO content involves writing one or two average blogs each week and posting them onto your site. But it's a little more complex than that.

Content marketing services may be offered by digital marketing agencies, such as the creation of informative blog posts and the creation and optimization of a website. Likewise, they can create the content for your social media accounts and more.
Finding the best digital marketing agency for your business
Now that you know what a digital marketing company does and the kinds of digital marketing services they offer, you'll be wanting to fine the best digital marketing agencies out there to partner with. Well, first there are a number of things to consider when looking for the best digital marketing agencies in the marketing industry.
A well-designed website

A good digital marketing agency needs to practice what it preaches. If you land on the website of a digital marketing agency and it isn't full of high-quality content, great SEO, and a dynamic and creative design, then you're in the wrong place. How can you expect a digital marketing agency to look after the way your business is presented if they can't even look after their own?

Beyond the website, make sure you ask for examples of work the agency has completed before so that you can witness what they have to offer. Even small little tests can be useful, like contacting them on a range of communication channels in quick succession to see how effective they are at managing a variety of contact methods.

Experienced and specialized team members

You'll want to inquire into the level of expertise and specialization the digital marketing agency can offer your business. This will depend on whether they have an in-house marketing team or hire freelancers. Perhaps they use a combination of both, which can be the most beneficial play for your business. You don't want just any old experience either.

The right agency for your business will have a team with experience and specialization in products and services such as those your business is wanting to promote. In your initial meeting with the agency, ask them what experience their team brings to your business, and if it's from other industries, ask them how it's going to benefit you.

Social proof and tangible evidence

Social proof can be useful to get a deeper look at the experience an agency has had. Social proof refers to the tangible social impact that agencies have had with past clients' brands. You could ask an agency for case studies, or request that they present a few success stories.

Then, go out and have a look for yourself. Dive into the web and see the entire project for yourself. If they say they've worked with a local business and managed their social media accounts to deliver engaging and high-quality content to an audience, then go search up the Instagram of that business. Be sure to read the comments, the proof is in the pudding!

They don't make outlandish promises

In some instances, a digital marketing agency can say all the right things in the hopes of becoming your digital marketing partner and marketing service provider. This doesn't necessarily mean they're telling lies, but it could mean they're tempted to embellish and overpromise.

The best digital marketing agencies are always the ones that own up to the fact that there are a number of variables in the digital marketing industry, but that they'll provide premium services to give you the best chance of gaining more customers.

A large portfolio and/or list of past clients

As we've mentioned, looking at what digital agencies have already accomplished in the industry is one of the most important factors you can consider. From browsing the website of one of their previous clients to checking out their social media accounts, be nosey.

You'll also want to consider who their previous clients were. Were they similar to your business? Were the products and services they offered aligned with yours. Were they well renowned, big successful companies, or does a previous clients website say, 'this business is no longer operational'. This will shed some light on the experience of the marketing agency and what they can really offer you.

Similar core values and company culture

Invest some time in identifying the company's value and culture. Working with an advertising agency that values similar things is crucial to the success of your partnership. A digital marketing agency is essentially an extension of your organization.

Looking for agencies with good values is really important and you shouldn't let this slip no matter how frustrating the search becomes. There is an agency out there that thinks like you do, you just need to find it. If you go working with people whose values or work ethic don't align with yours, you're not going to enjoy the process and your marketing and advertising will suffer because of it.

As a pre-check, look at the language used by agencies to describe responsibilities and roles on their website. This will give you some insight into their values and culture.

Are they easy to get in touch with?

Is their own inbound marketing effective? Some digital marketers can be a nightmare to get in touch with, switching between email chains, playing phone tag and so on. We agree, it should be industry standard that an agency is easily contactable but unfortunately, it's not always the case. To determine this one, you shouldn't have to try too hard. If you do, then you already know the answer.

Digital marketing services offered

The worst thing is having to use multiple digital marketing companies to achieve the desired results. When you choose a marketing agency, you need to know all about the full range of services they have available for you.

A professional online marketing company should be a trusted source for generating high traffic on your web pages through a range of channels and in a variety of formats. Successful digital marketing companies can help with combining several strategies into one cohesive, integrated holistic strategy.

Reputation

The reputation of agencies is a final important consideration. Every agency has a reputation whether they like it or not. They're not hard to see either. Take a look at their social media feeds, explore their Google reviews, even connect with their previous clients who have worked with them before and ask about their experience.

Don't worry about offending. The right digital marketing agency will understand what you're doing and why you're doing it. The right digital agency will have nothing to hide.
What are your company's marketing requirements and business goals?
Before you call up your nearest agency or company, you should determine your marketing needs and have them somewhat established to communicate up front. Are website requirements necessary? What about email? Why are search engines so important to you? Do you have analytical needs? Do people in your business already know how to use marketing techniques and are they being used?
Start by listing your business goals and objectives, then highlighting all the tactics and strategies you've been able to implement yourselves. This question will give you better insight into how much you need to outsource to an agency and will give agencies better insight into how much they can do for you.
The best digital marketing agency at your doorstep
From developing a world class digital marketing strategy based on your business goals and needs, to understanding the best ways to utilise different online channels and tools to create powerful campaigns, we're the partners you've been looking for. FirstPage New Zealand has the expertise and experience to take your digital marketing to the next level without sacrificing your brand and style. We're committed to getting your company or business on the FirstPage.
Call us today on 0800 235 001 or visit https://firstpage.nz/. We look froward to working with you!